NFPA 96 for North York Restaurants and Facilities
#1 Best Restaurant & Facilities Kitchen Exhaust Cleaning Company
We apply NFPA #96 standards for Kitchen Exhaust System Cleaning
We provide a Health & Safety Certificate as per NFPA 96 standards along with before/after pictures when completed
We will provide our WSIB and Liability Insurance information before start of work
NFPA 96 for North York
Restaurants and Facilities
The National Fire Protection Association (NFPA) created NFPA 96 – the Standard for Ventilation Control and Fire Protection of Commercial Cooking Operations – to provide a safe environment in restaurants and other commercial cooking operations. NFPA 96 is all about fire safety for commercial kitchens; it includes extensive requirements that cover the design, installation, inspection, and maintenance of these facilities. With this set of rules, kitchen owners can enjoy comprehensive prevention and protection from the dangers of fires.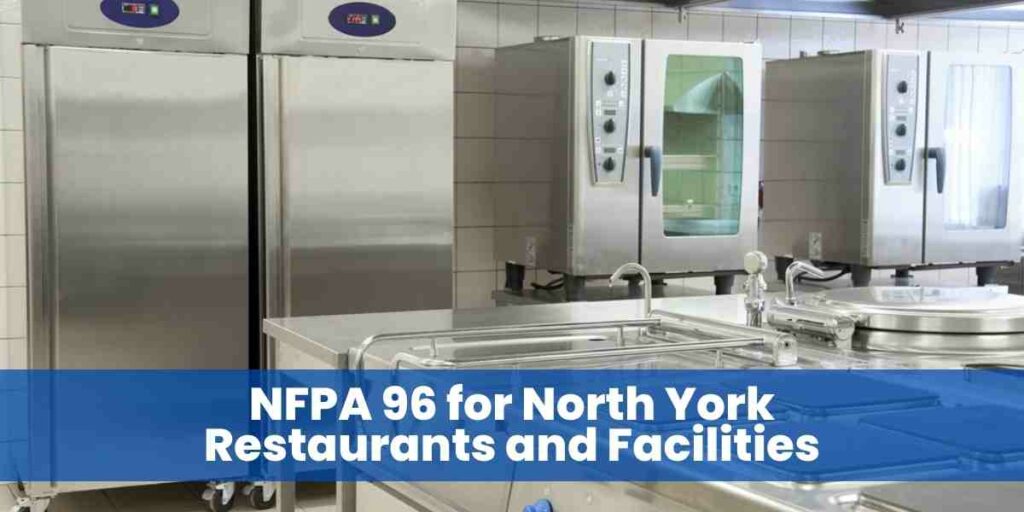 Commercial Cooking Equipment
Certain rules exist to follow for installing commercial cooking equipment and systems. Constructing and operating commercial kitchen appliances requires adherence to strict safety standards.
Items must be designed, built, placed, maintained, and operated in accordance with the regulations set forth. These include spacing combustible materials safely apart from each other, ensuring fire suppression equipment is properly installed, and appropriately installing exhaust systems for security purposes.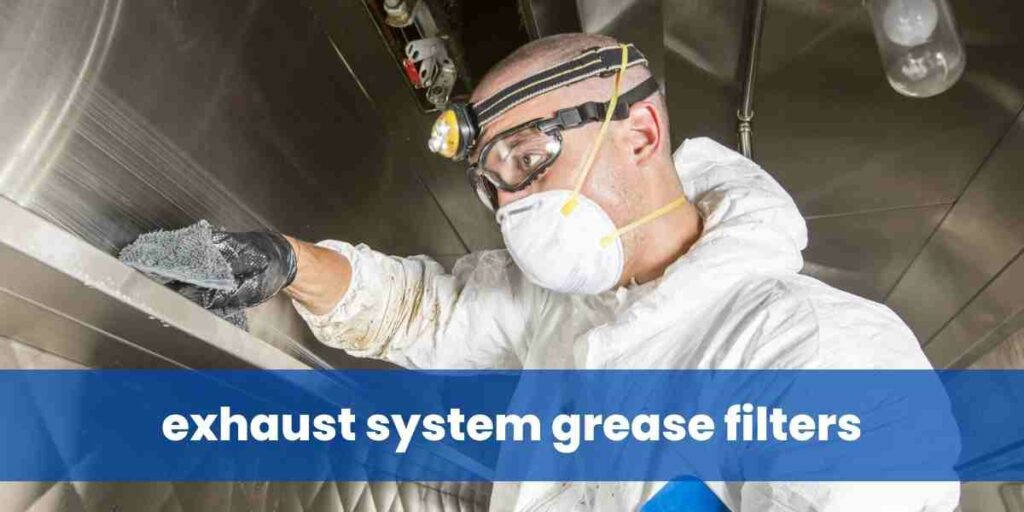 National Fire Protection Association
NFPA 96 is comprehensive in its scope, setting various stipulations for the operation and upkeep of kitchen equipment, including cookers, exhaust hoods, fans, ventilation systems, and fire suppression apparatuses. To ensure the safety of commercial and residential kitchens, fire regulations must be strictly adhered to, including inspection and cleaning frequencies.
Additionally, rooftop grease containment appliances and hood grease filters are necessary components for meeting these standards.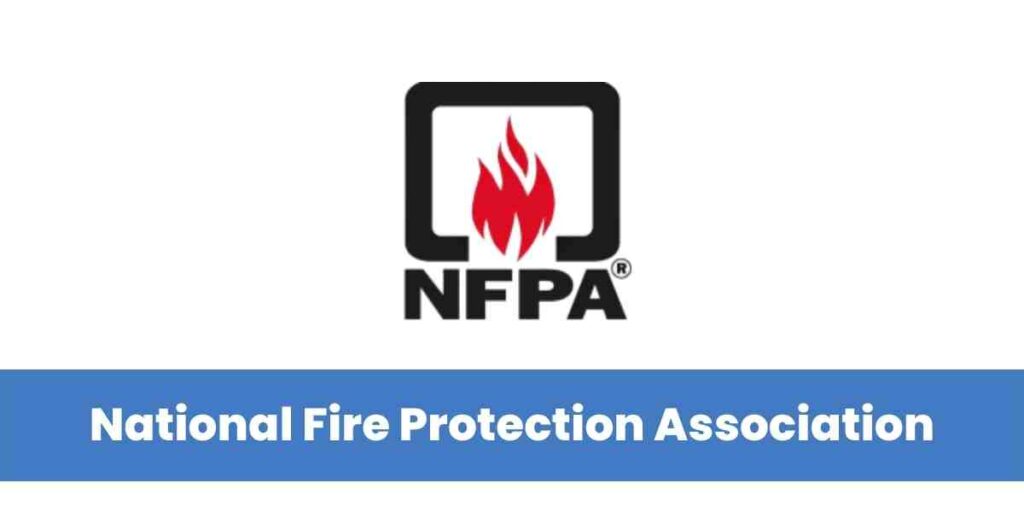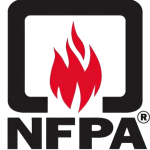 Our Fully Trained Service Technicians Follow The NFPA 96 (National Fire Protection Association) Standards for Hood & Kitchen Exhaust Cleaning.
Get Your Free Hood Cleaning Estimate Now!
We Have The World's Most Awesome Clients










Commercial Cooking Operations
Kitchen owners in North York, Ontario, must adhere to NFPA 96 regulations for fire safety in their commercial kitchens. Compliance with local and national standards the National Fire Protection Association sets is of utmost importance.
Staying informed of all potential changes is essential to restaurant owners. Adhering to these regulations can guarantee a secure kitchen atmosphere and decrease the chances of fire-related destruction.
NFPA 96 Inspection Checklist
The NFPA 96 inspection checklist assists in verifying that all necessary elements for fire prevention are met and maintained, including:
1. ✅ Fire Suppression Systems – Take the time to guarantee that your fire extinguishing system is functioning properly, and carefully examine all the features for any signs of wear or damage.
2. ✅ Cooking Equipment – Verify all equipment is suitably spaced apart, is free of dirt or grease buildup, and is properly connected to the exhaust hood.
3. ✅ Grease Containment – Ensure rooftop equipment is free of blockages and that all appliances are properly vented.
4. ✅ Exhaust Hoods – Verify that the hood has been inspected annually and meets NFPA 96 guidelines.
5. ✅ Fire Doors – Make sure all entrances operate efficiently and seamlessly, with no trace of corrosion or damage.
Strictly observing the NFPA 96 regulations will help restaurant owners create a secure kitchen atmosphere and avoid costly fire damage.
NFPA 96 Kitchen Hood
North York
Staying current with NFPA 96 code is vital for your kitchen's operation; failing to adhere can result in hefty fines, forced closures, and endangers the well-being of staff members and customers. Keeping your kitchen appliances compliant with all standards and engaging in regular NFPA 96-certified hood cleanings is essential to ensure your kitchen's smooth and lasting operation.
NFPA 96 Standards for North York Restaurants
NFPA 96 is an important part of the regulations designed for commercial kitchen owners in North York, Ontario. These guidelines offer comprehensive protection from fire hazards and ensure a safe workplace environment.
Restaurant proprietors must diligently adhere to all local and federal codes for the safety of their guests and personnel and rigorously inspect commercial appliances to uphold the highest standards consistently.
NFPA 96 Hood Cleaning Frequency
According to NFPA 96 guidelines, hood systems must regularly be serviced by a properly accredited and experienced professional hood cleaning company. Once a specialized cleaning firm has completed your hood system sanitation, they will submit the necessary paperwork to any inspectors and often leave you with an easily visible sticker denoting the date of their last service.
Different cleaning frequencies are necessary depending on the kind and quantity of cooking in a kitchen. For instance, high-volume restaurants must typically be serviced every six months, while low-volume establishments can wait up to 12 months between cleanings. It's critical that you confirm the precise cleaning frequency with your local inspector before having your hood system serviced.
By procuring frequent and professional hood cleaning services, commercial kitchen owners can guarantee the safety and efficiency of their kitchen, adhere to NFPA 96 rules and regulations, and ensure that all maintenance for their appliances is up to date.
NFPA 96 Kitchen Hood Inspection
A kitchen hood inspection must include a detailed examination of all components, removal and replacement of worn or defective parts, and rechecking of all elements to guarantee kitchen safety.
If you have questions concerning NFPA 96 regulations or need assistance complying with these standards, contact a professional hood cleaning company today!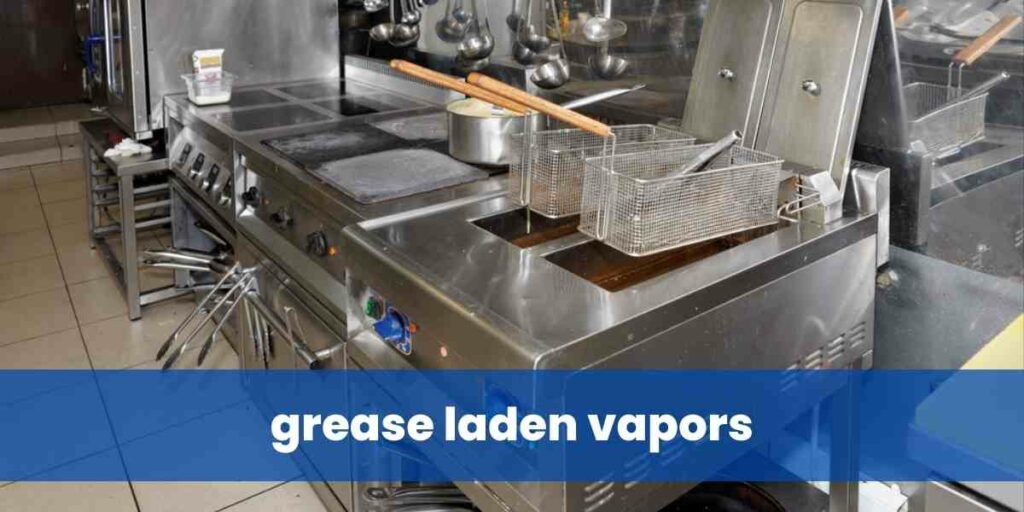 Fire Sprinkler Systems in North York
Fire sprinkler systems are an effective means of protecting your commercial property from fire damage. In addition, Canadian regulations require all buildings with walls or roofs more than three meters high to be equipped with a fire sprinkler system to meet the building code requirements and NFPA 96 standards.
While installing a fire sprinkler system can be complex and costly, it's one of the most critical components in creating a safe work environment. With the help of a qualified company, you can ensure that your building meets all the necessary regulations and protects your personnel and property from potential fires.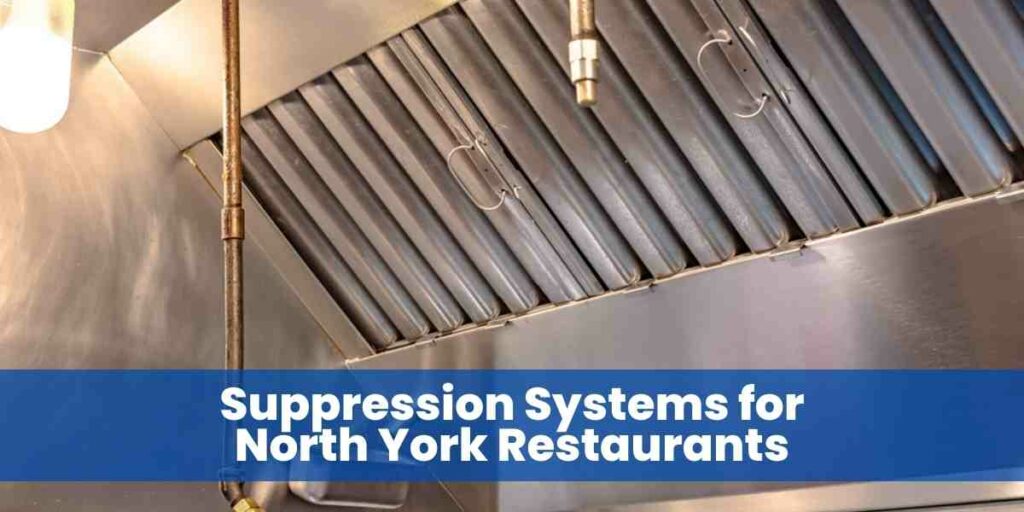 Suppression Systems for North York Restaurants
Fire suppression systems are an integral part of any commercial kitchen in North York. Connecting a fire suppression system to your existing kitchen hood can quickly extinguish any potential fires that may arise from grease build-up and other causes.
These systems consist of a network of pipes connected to the main water line and a series of nozzles above the cooking surface. Upon fire detection, the system immediately releases water droplets over the area to smother any flames and prevent them from spreading.
To abide by NFPA 96 standards, North York restaurants must install a suppression system in their kitchen and ensure it is routinely serviced and inspected by an experienced technician.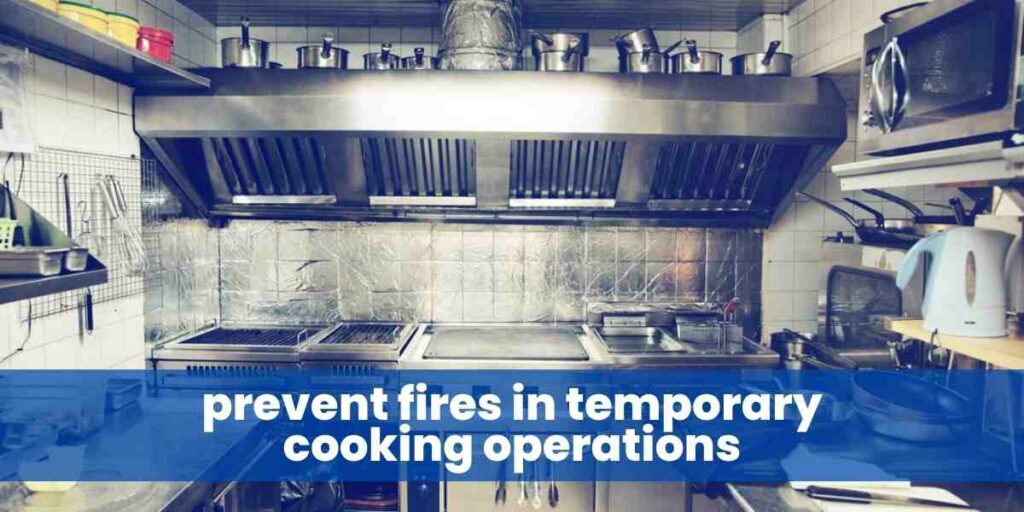 Whether installing a fire suppression system or cleaning a restaurant hood, our expert technicians are highly trained in all aspects of NFPA 96 standards. We always afford excellent customer service and deliver exceptional quality results.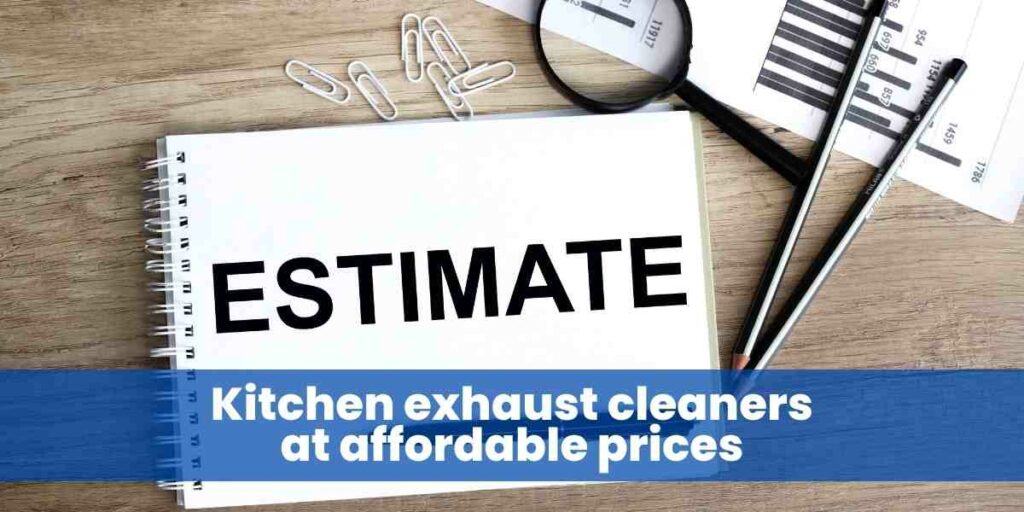 Kitchen exhaust cleaners at affordable prices
Don't go about settling for expensive yet low-quality kitchen exhaust cleaning services. Here at our North York facility, we guarantee the most competitive and affordable prices without sacrificing quality.
We provide reliable and professional service that ensures your commercial property is up to code and meets NFPA 96 standards. In the unfortunate event of a kitchen fire, look no further than our 24/7 emergency services.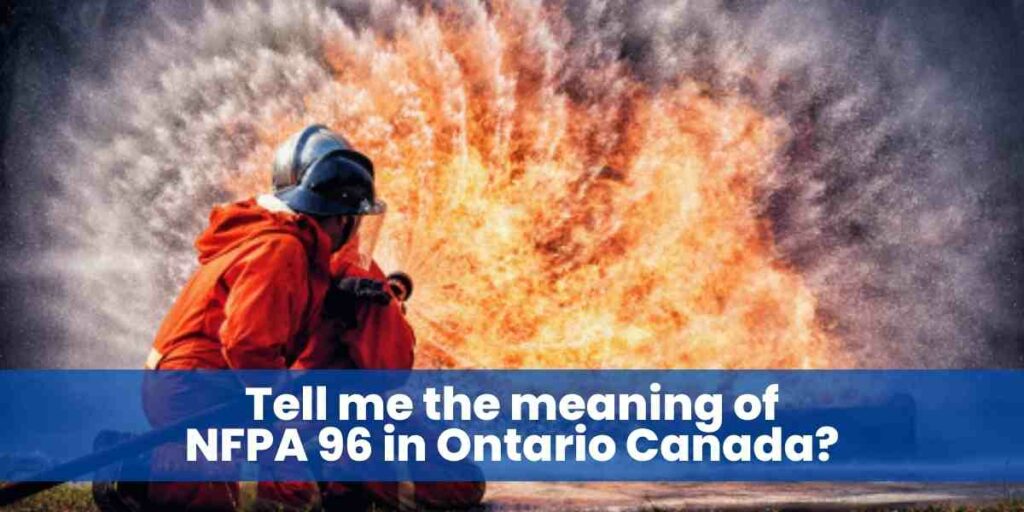 Tell me the meaning of NFPA 96 in Ontario Canada?
To ensure the safety of staff and customers, NFPA 96 is an essential standard enforced in Ontario that provides fire protection and prevention regulations. Its requirements apply to all commercial kitchens, including restaurants, cafeterias, catering services, mobile food vendors and any other place where cooking takes place on-site.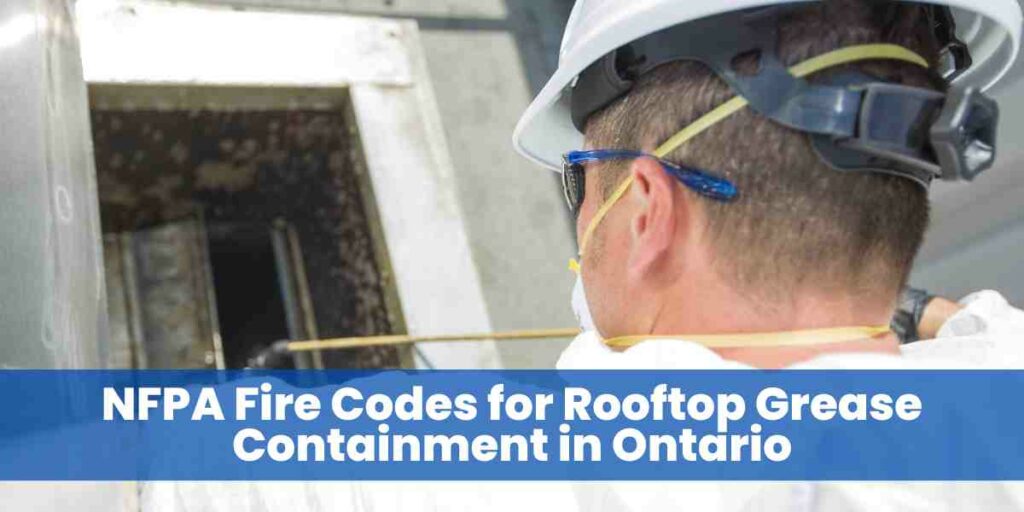 NFPA Fire Codes for Rooftop Grease Containment in Ontario
Abiding by NFPA 96 standards is essential for Ontario businesses utilizing kitchen exhaust systems to ensure the safe containment of grease. To meet these guidelines, install a roof-top grease containment system that follows all protocols – from using fireproof materials approved by NFPA to regularly maintaining each component and ensuring they're in working condition. To prevent hazardous grease build-up and lessen the danger of fire, it is essential to routinely clean and inspects grease traps and other components.
Frequently Asked Questions
NFPA 96 provides an extensive set of provisions and rules for a broad range of kitchen devices and appliances, including cooking equipment, exhaust hoods, fans, ventilation systems, and fire-suppression systems.
Do I need a fire suppression system in my restaurant?
Yes. All commercial kitchens in North York must set up a fire suppression system connected to an existing kitchen hood and meets all the necessary NFPA 96 standards.
Where should a fire extinguisher be in a restaurant?
Installing a fire extinguisher in a reachable location near the kitchen is recommended for optimal safety. This ensures that you can swiftly respond and put out the flame easily if a fire ever occurs.
How many fire extinguishers do I need in my restaurant?
To abide by NFPA 96 standards, Ontario restaurants should have a minimum of two fire extinguishers installed within the kitchen. It is recommended to install additional extinguishers on other levels of the restaurant.
t. Ea, consequatur.
What People Are Saying
See what our customers are saying about us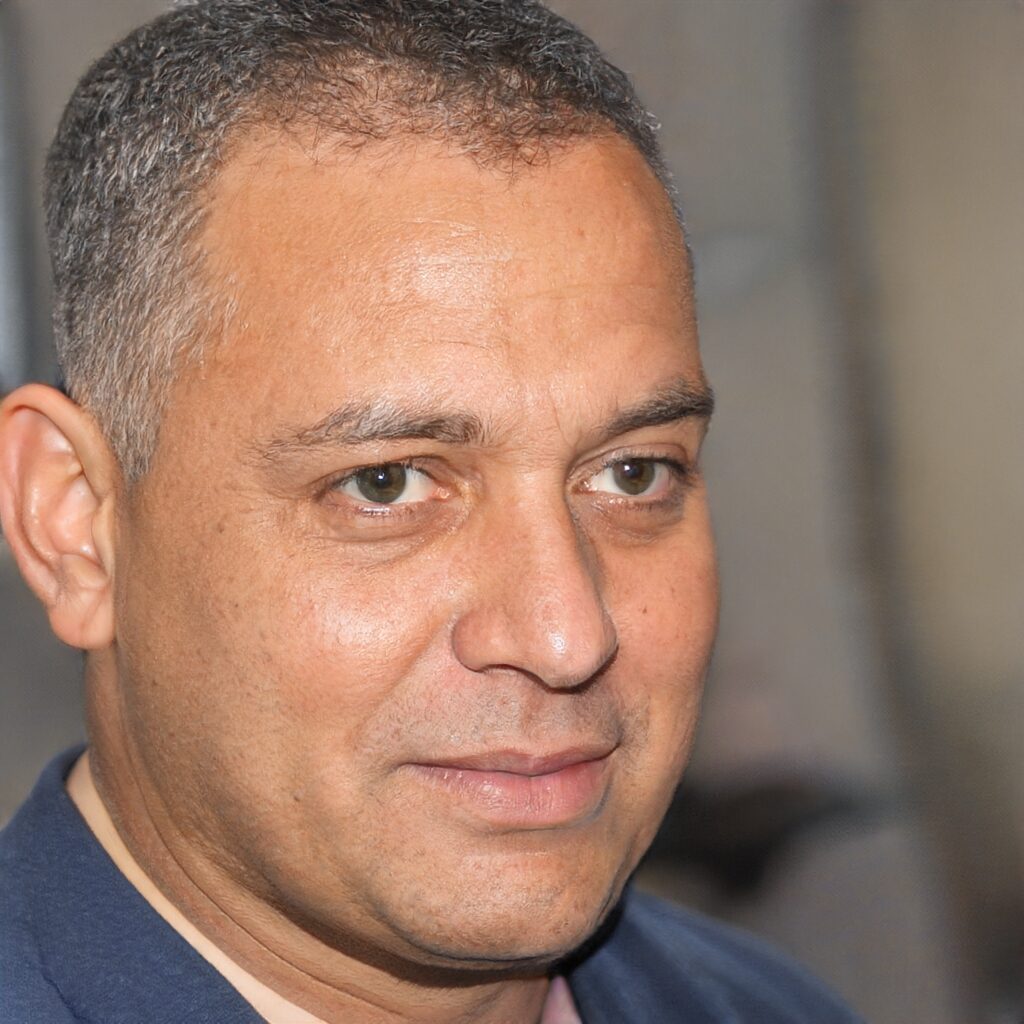 Fast, friendly and completed on time.
This company was really good to deal with. Gave us a written estimate, completed work in 4 hours and attention to details was amazing.
North York Hood Cleaning Areas Served
North York Hood Cleaning | North York, Ontario | M1R 1R1 | Telephone (647) 797-9137